We're introducing a new setting – all tasks created in Toloka will automatically become available both in browsers and in the mobile apps. We believe this way, Tolokers will have easier access to more tasks, which will also benefit the requesters. Read on to find out about this important change and how it will affect you.
Background
Many crowd performers join Toloka and try to tackle assignments on their mobile devices. This way, Tolokers can complete tasks anytime and anywhere. However, not all tasks are actually available in our mobile app. One reason is that not every task is mobile-friendly. For example, a task may contain 3D objects or bounding boxes and therefore require a large monitor and a mouse to do the labeling accurately. Other tasks can be completed on a smartphone, but they require certain interface adjustments that the requester may not be aware of.
But another, less obvious reason is that Toloka has a hidden default filter that limits task discovery to the browser version. This means that everything created by the requester in Toloka is only visible to Tolokers through browsers, not the mobile app – unless the requester specifies otherwise when they're launching the project.
As a result, we have a lot of Tolokers from across the globe who are willing to perform tasks but don't have access to enough of them in the app on their smartphones. Some get disappointed and leave. Others discover that there are more tasks in the web version, open Toloka in a mobile browser, and complete tasks on their phone. Granted, this is far from ideal. Here's our solution.
How the new setting works
The upcoming change means that the inbuilt filter is now going to work in reverse. Before, the requester had to specify if they wanted the task to be listed in the mobile app: the default setting did not automatically include it. Now, the tasks will be available in all versions of the platform by default, and the requester will need to specify if they don't want it. The screenshots illustrate the change.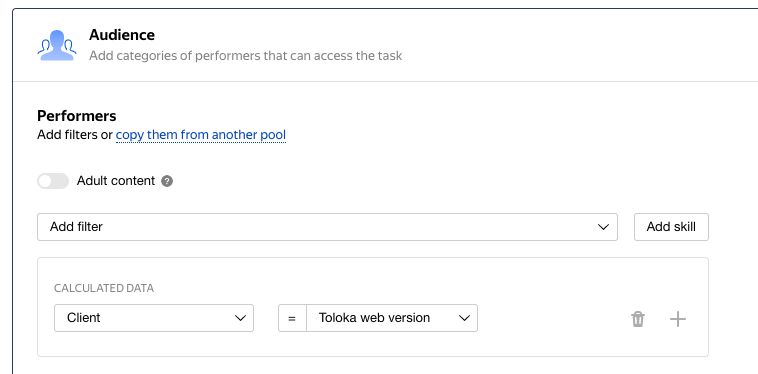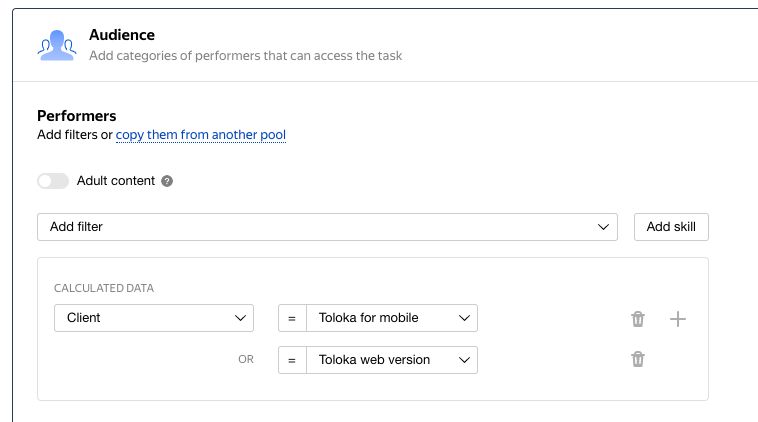 The new default setting means that unless told otherwise, the tasks will appear everywhere. If the requester wants their task to be available only in the mobile app or only in browsers, they'll need to add the Client filter and state their preference by specifying device category. It's important to note that this is an internal mechanism we're talking about – the filter won't actually appear this way to the requester, but it will work exactly like that.
We believe this new setting makes more sense since it implies more rather than less by default. It's actually similar to language and regional settings – if those aren't specified, the task becomes available to Tolokers speaking any language and from any country.
Your next move
As a requester, you should have a look at your current projects and do the following:
Determine which projects should or shouldn't be available in the mobile app.
Check the interface to see that it works in the mobile app: does everything fit the screen, are the buttons clickable, is the text displaying properly?
Make sure your instructions can be easily read on a smartphone.
If you want to change the default setting and limit the task's visibility to either version, add the Client filter manually and select the version you prefer – browser or mobile app only.
Above all, we hope that this change will make Toloka more appealing to new users and keep both the performers and the requesters happy. If you think this change won't work for you or there's something else we're missing, join our community on Slack – our team will be glad to discuss your concerns.